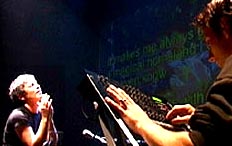 Three recent recordings by Palestinian musicians, each, in its own way, quite brilliant. Taken as a whole, they give a sense of the range of contemporary Palestinian music, from the rooted-in-tradition to the most avant-garde. Two of these recordings are from artists with what is probably the most important and creative contemporary Palestinian ensemble, Sabreen.
Kamilya Jubran
(left) served as Sabreen's lead vocalist and qanun player for twenty years, while
Wissam Murad
remains one of Sabreen's core members. Sabreen's music has always been characterized by deep roots in the traditions of Arabic music, particularly that of the
takht
, the classical small ensemble known for its use of improvisation. Throughout its long recording career, Sabreen has been known for its creative ability to incorporate the rhythms and sounds of jazz, reggae, rembetika, blues, contemporary Arabic pop music, and even hip-hop, while at the same time to remain firmly grounded in the tradition. Although the members of
Le Trio Joubran
are not connected to Sabreen, their work too is at once innovative yet tradition-grounded...
Ted Swedenburg investigates these daring new works:
Read More