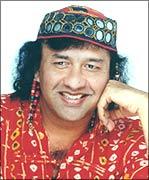 It seems India's version of the pop idol TV craze is getting some interesting results.
Indian songwriter and producer Anu Malik talks about
Indian Idol
"When Indian Idol 2 started, I believed we would have a female idol this time. Unfortunately, that didn't happen and it is really funny. Women are ruling in every sector, so why not in music? It's all about the audience. How can Monali, Meenal, Neha or Antara not get astounding votes? Strangely, somewhere down the line, we still feel boys should be given first preference." Read the rest of his interview at
Rediff.com
.